Benny Hill remembered 20 years after death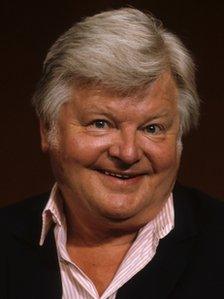 On the 20th anniversary of his death, comedian Benny Hill remains an enigma - seen by many as smutty and sexist, but still hugely popular around the world.
Much of his inspiration came from his early years working around Southampton and Eastleigh. He lived alone for many years in his mother's house in Westrow Gardens.
However there is still no large-scale memorial to one of television's most popular stars.
TV critic and friend Garry Bushell said: "Southampton should be proud of someone as great as Benny."
Alfred Hawthorn Hill was born in 1924 in Bridge Street, Southampton.
He later changed his first name to Benny in homage to his favourite comedian, Jack Benny.
An early job driving milkcarts for Hanns Dairy in Eastleigh famously gave him the inspiration for his 1971 hit Ernie, The Fastest Milkman in the West.
Malcolm Dale, of the Eastleigh Historical Society, said: "He set out to be the best and he didn't look back.
"A lot of his characters began here. He'd visit local clothing stores, asking for clothes for vicars and the like."
He eventually left Southampton at the age of 17 bound for London's theatreland. By 1955 he had his own show on television.
At the height of his popularity in the 1970s, The Benny Hill Show on Thames Television was one of the biggest shows on British TV.
The vaudeville-style saucy slapstick was, and remains, massively popular around the world.
Charlie Chaplin reportedly had a shelf of Benny Hill films in his office.
Hill rarely gave interviews and his solitary lifestyle fed rumours and bizarre stories about his private life - his grave at Hollybrook Cemetery in Southampton was broken into after rumours he was buried with his collection of gold jewellery.
By the late 1980s his routines were increasingly branded as smutty, sexist and politically incorrect and ITV dropped him from the schedules.
Bushell feels Hill was unfairly treated.
"It's shocking that someone of Benny's talent was treated as a pariah. He was the first comic to exploit TV's full potential.
"He was portrayed as a sexist monster but if you actually watch the shows it's the men who were the targets of his humour - they were inadequate and the ones who walked into lamp-posts and got slapped. Women always ended up with the upper hand.
"It is harmless and as offensive as a seaside postcard.
"To make people laugh, really belly laugh, that is a rare skill.
"He was a lovely unassuming man, modest and very generous with his comedy."
Hill died alone in his London flat on 20 April 1992 but two decades after his death, there are few permanent reminders of the comedy icon.
A commemorative plaque was unveiled on the site of the former Hanns Dairy and his old school, Taunton's College on Hill Lane, has a memorial garden.
Head teacher Alice Wrighton said: "For many of our students, Benny Hill isn't a familiar name or face.
"Some of his comedy has now become quite controversial, and it provides an interesting talking point for students, who can reflect on how comedy tastes have changed and developed.
"It is very important to the college as a whole that we celebrate and remember former students who have gone on to great success or celebrity."
Other ideas mooted over the years included renaming a road or walkway "Benny Hill", or a parade of milkfloats.
Bushell has been behind efforts to erect a statue to the comedian.
Sculptor Graham Ibbeson, who has produced similar tributes to Cary Grant and Eric Morecambe in their home towns, has completed a mould of Hill's Fred Scuttle character.
He described Hill as "the greatest television comedy export ever from Britain".
Bushell says the £40,000 statue campaign is "back on track", with celebrity fundraising events being planned for London and Southampton.
Southampton City Council's Mark Holman said: "We support the idea in principle and would help find a location for any statue, without using public funds.
"But there is nothing currently on the cards.
"There is obviously huge interest abroad. Maybe the 25th anniversary in 2017 provides an opportunity to generate more interest."
The South Salutes Benny Hill is on BBC Radio Solent at 20:00 BST on Friday 20 April and on BBC iPlayer .
Related Internet Links
The BBC is not responsible for the content of external sites.