Russell Crowe and Hugh Jackman film Les Mis in Winchester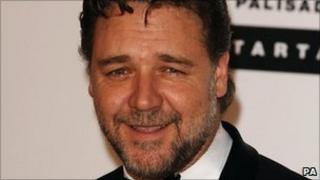 The filming of Russell Crowe and Hugh Jackman's new movie has seen a number of roads closed in Winchester.
The actors are in the city to shoot scenes for new movie Les Miserables at Winchester College and the cathedral.
Parts of College Street, Swithun Street and Kingsgate Street have been closed off ahead of filming of night-time scenes.
A spokeswoman from the college said the actors would be working at the school until Friday night.
A spokesman for Universal Pictures said co-star Anne Hathaway, who will play the character Fantine, is not currently taking part in filming.
The motion picture is based on the musical of the same name which is in turn based on an 1862 French novel by Victor Hugo.
It is directed by The King's Speech Academy Award winner Tom Hooper.
The movie tells the story of Jean Valjean, played by Jackman, a former prisoner who becomes mayor of a town in France and agrees to take care of Cosette, the illegitimate daughter of Fantine.
Valjean tries to avoid being captured by police inspector Javert, played by Crowe.
Filming will take place in Winchester and later Pinewood Studios in Buckinghamshire, a spokesman for Universal Pictures said.
The film is due to be released in December.