Library e-book downloads up 67% at Hampshire's libraries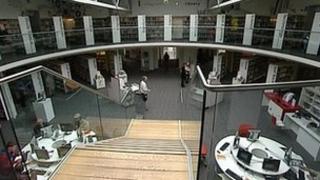 The number of e-book and e-audio downloads from libraries in Hampshire has gone up by more than two-thirds.
The county council's was one of the country's busiest online library services in 2011/12, with about 5,000 downloads every month.
But the number of traditional books borrowed from Hampshire libraries fell by 37% compared with nine years ago.
About 6.4 million books were issued by Hampshire's 53 libraries in 2011/12, compared with 10.2 million in 2002/03.
The figures relating to the number of printed books borrowed from libraries were obtained by the BBC through a Freedom of Information request.
'Tipping point'
Hampshire County Council said the figures reflected a change in the way people were now using libraries.
Nicola Horsey, head of library services at Hampshire County Council, said: "I think there will always be a need and desire for people to have books, books on shelves, books to hold, to feel, to smell and particularly for children's books, for which issues have gone up by 15% in the last financial year."
Prof Wendy Hall, of the University of Southampton, said: "I don't feel the need to buy books now.
"I get everything electronically but for a long time people will still have printed books.
"We are at a tipping point but that doesn't mean printed books are going to disappear tomorrow."
Stanmore Library in Winchester was the least-used library in Hampshire, receiving about 2,500 visits in 2011/12.
In contrast, Winchester Discovery Centre was the most used, with about 498,000 visits during the same period.
But Hampshire County Council said the number of people using libraries was steadily increasing.
There were more than 6.3 million visits in 2011/12, an increase of 5% on the previous financial year.