Robert Sebbage death: Mum welcomes future trial date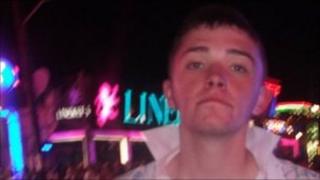 Nine months after her son was fatally stabbed in Greece, a mother from Hampshire has welcomed news that a trial date is on the horizon.
Robert Sebbage from Tadley was stabbed to death while on holiday with friends on the island of Zante in July.
Two Greek men have been charged in connection with Robert's death and are likely to be tried in September.
The teenager's mother Rhian Sebbage said her family is now trying to raise £60,000 so they can follow the trial.
Mrs Sebbage said: "Really our whole life has been on hold.
"In fairness to the family, we have not had a chance to grieve because it has been such a whirlwind. The news, the funeral, the inquest, which was quite harrowing to hear.
"Then obviously we've had to launch this appeal to try and raise funds because you're suddenly told that you could have a bill of £60,000 plus."
Rhian Sebbage told the BBC that the Greek authorities considered her to be a "third party" in the investigation because her son was 18 when he died.
Five people were stabbed at the Laganas resort on Zakynthos, also known as Zante, in July 2011.
Robert Sebbage died and four others were injured.
Shortly after the stabbing, a 21-year-old man was charged with murder. A 25-year-old man was also charged as an accomplice.
The teenager's funeral was held in St Mary's Church in Basingstoke in August.