Beaulieu Boat Jumble cancelled over wind concerns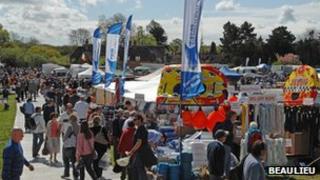 One of the UK's biggest outdoor boat events, held annually in Hampshire, has been cancelled over weather concerns.
The Beaulieu Boat Jumble in the New Forest was expected to attract about 10,000 visitors.
Margaret Rowles of Beaulieu Events said the forecast for strong winds meant it was unsafe for exhibitors to set up for the event on Sunday.
She said it was "hugely disappointing" it had to be cancelled for the first time in its 35 year history.
Ms Rowles was not able to confirm how much the cancellation would cost the organisation.