Dangers of river ford crossings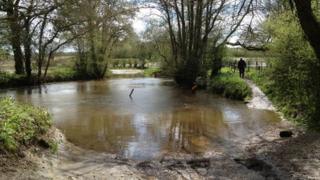 The death of a 52-year-old man in a car submerged by water at a river ford on the Hampshire/Berkshire border has highlighted the dangers of such road crossings.
The Royal Society for the Prevention of Accidents (RoSPA) said that in 2010 alone, 13 people had died after vehicles entered inland waters as a result of accidents or natural causes.
BBC South Today reporter Ben Moore, at the scene of the accident at Compton Woods near Newbury, said the ford was "certainly very highly in flood" and that a measuring stick showed the water levels to be more than 4ft (1.2m) high.
Fast-moving water
He added: "You can see how strong the current is.
"Some locals we've talked to say that this ford is particularly troublesome and that cars have been caught here and swept away in the past."
Kevin Clinton, head of road safety at RoSPA, said that its advice relating to fords is "when there is a risk of flooding to pay close attention to the road conditions and to heed any warnings or advice given at the roadside.
"It is easy to underestimate the power of fast-moving water.
"A 10-minute detour, although inconvenient, might avoid a damaged car, or worse.
"Be aware that rivers or streams may rise suddenly and flood, and a ford that might have been safe to cross at a particular point in time might not be safe to cross just a short while later."
There are just under 2,000 ford river crossings in the UK, according to Dr Lee Chapman from the University of Birmingham, who runs wetroads.co.uk .
He said following the recent torrential rain he "would not cross a ford in any vehicle".
He added: "The ford is dangerous because it is where the river crosses the road.
"People perceive fords as a short cut, they don't think about the implications.
"You are going to get some buffeting of the car because you are exposing yourself to flowing water."
'Tragic reminder'
The Environment Agency's South East Area flood risk manager Ian Tomes said the incident was a "tragic reminder that flood water is extremely dangerous".
He added: "We would urge people to keep away from swollen rivers particularly as further significant rainfall is forecast."
Some local councils have installed flood gates by fords and will have the gates closed if there has been severe wet weather.
The ford where the man drowned in his vehicle, on Thornford Road, has a warning sign stating: 'check depth marks before crossing' and two water gauges.
Mr Clinton said RoSPA was "not aware of any evidence" to suggest gated fords were safer than fords with warning signs only.
He added: "The depth of water you can drive through safely depends on how high your vehicle is off the ground and where the electrical components are.
"If you find yourself inside a vehicle and water is rising rapidly around you, abandon the vehicle immediately, but be very careful if the water is moving quickly and be wary of strong currents and debris - fast-flowing calf-deep water is enough to knock you off your feet."