'Dozens of motorists rescued' from Hampshire ford crossing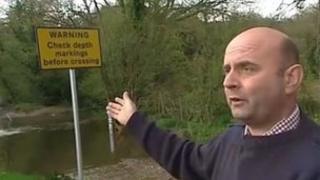 A man who owns a smallholding close to a ford in Hampshire where a man drowned says he has rescued more than 30 cars from the same spot.
A 52-year-old male passenger died after the car he travelling in became submerged in fast flowing waters near Newbury on Monday morning.
Simon Hiscock said the signs on the West Berkshire side of the ford did not give adequate warning.
However, Hampshire County Council said the signs had recently been improved.
Mr Hiscock said: "If you come from the West Berkshire side, there's nothing to tell you it's as treacherous as it is.
'Clearly visible'
"This ford can rise and fall 2ft in five minutes. It is very fast flowing. It was fine for your horse and cart but it isn't appropriate for any motor vehicle to use at this time of year."
Mr Hiscock said flood barriers should be put in place to make the road safer.
Mel Kendal from Hampshire County Council said the signs on the Hampshire side of the ford had recently been changed and improved to advise motorists to check the depth markings before crossing the ford.
"Approximately 900 metres before reaching this sign and depth markers, there are advance signs warning that the road is liable to flooding."
Mr Kendal said the council would await the outcome of the police investigation before considering whether any further measures were needed.