Man who died in submerged car named as Jonathan Gammon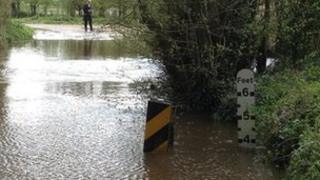 A man who died after the car he was in became submerged in fast flowing water in Hampshire has been named as Jonathan Gammon.
Mr Gammon, 52, and his wife, 55, from Teddington, were attempting to cross the ford at Thornford Road, Headley.
Their silver Toyota Yaris was swept downstream about 100m (328ft) and became submerged in flood water.
Emergency services recovered Mr Gammon from the vehicle but he was pronounced dead at the scene.
Mr Gammon's wife, who was driving, managed to swim free of the car which was in 1.5m (5ft) of fast flowing water.
She was taken to hospital in Basingstoke suffering from shock.
A pet dog in the car also died in the incident.
Police said the conditions on the road, including the impact of recent rainfall on water levels at the ford, would form part of the investigation into the death.