Vitacress identified as source of River Bourne oil spill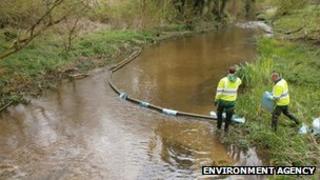 A food company has been identified as the source of an oil spill on a Hampshire river.
Andover-based Vitacress Salads said staff discovered the leak at its premises on Thursday.
Managing director Mike Rushworth said the leak, which affected a 10km (six-mile) stretch of the River Bourne, was "very regrettable".
The firm said it was working with The Environment Agency (EA) to establish the cause of the spill.
The agency said it estimated around 1,000 litres of oil had leaked into the river.
Ecologists were assessing the damage on the river, which is renowned for salmon fishing.
The EA said no dead fish had been reported, but advised people to keep themselves and their pets out of the water.
A boom was put across the river north of Stockbridge to prevent pollution entering the River Test.