Portsmouth Cathedral hosts Falklands memorial service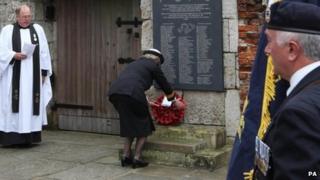 A memorial service to remember those who died in the Falklands conflict has been held in Portsmouth.
Portsmouth's Anglican Cathedral hosted the service followed by a parade of veterans and with a beating the retreat at Portsmouth Naval Base.
Soldiers, sailors and air force personnel who served in the South Atlantic in 1982 were among the congregation.
Wreaths were laid at the Falklands Memorial at the Square Tower.
Canon Roger Devonshire preached during the service. He served for 24 years as a naval chaplain and was on board HMS Hermes during the conflict.
He said: "It was one of the defining experiences of my life, without any shadow of a doubt. It made me rethink a lot of things about life and faith.
"When I think back to it now, I realise that whatever we went through, it was worse for the families back home, as they didn't know what was happening."
Following the service, the cathedral choir sang at the Falklands Memorial, which lists the names of those from the Royal Navy, Royal Marines, Royal Fleet Auxiliary and Merchant Navy who gave their lives to defend the Falklands.
There was also a salute of veterans from the South Atlantic.