Basque 'children' gather for reunion in Southampton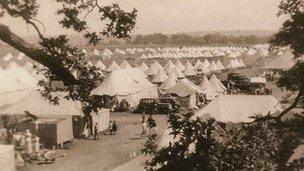 Evacuees from the Spanish Civil War who fled to Southampton have gathered for a special reunion.
In 1937, 4,000 Basque children were sent to Britain on the SS Habana from Bilbao by their parents.
The children were housed in a temporary camp on the outskirts of the city at North Stoneham, Eastleigh.
Around 30 will mark the 75th anniversary of their arrival with a lunch, talks and photo exhibition at Southampton University.
Dr Alicia Pozo-Gutierrez, from the University, said: "The children left their homes and sailed across the stormy Bay of Biscay to Southampton.
"Everyone thought they would only be away for three months, many had returned home by 1939, but around 250 were still in Britain in 1945 and most of these went on to make their lives here."
Evacuee Josefina Stubbs was among those who stayed in Hampshire. She remembers the children's feelings of distress after leaving their parents.
She said: "It was very sad to see all of them crying and screaming. And as we were loaded into the boat the planes tried to bomb the boat, it was very frightening.
"When we got to Southampton, the boat docked and the Salvation Army was there and a band was playing. The buses took us to the camp, we'd never seen a double-decker bus, to us it was so strange."
Churches, cooperatives and members of the Communist party helped organise the transfer of children to the UK.
The British Government was not involved as it wanted to remain neutral.
Related Internet Links
The BBC is not responsible for the content of external sites.