Terry Dukes flown home by air ambulance from Borneo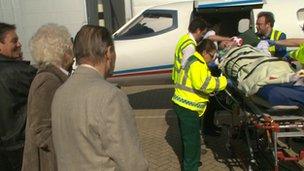 A Hampshire man critically injured in Borneo has been flown to Southampton after four months in a Brunei hospital.
Terry Dukes, from Hayling Island, who worked as a diver and marine biologist on the island, fractured his skull when he tripped and fell in January.
His £120,000 AirMed flight was funded by the Sultan of Brunei.
The 49-year-old was initially taken from Southampton Airport to the intensive care unit at the Queen Alexandra Hospital in Portsmouth.
Family members were on the airport tarmac to greet him.
His mother, Jane Dukes, said: "We're elated. He opened his eyes and probably understood what we were saying.
"It was lovely to be able to kiss him."
Following the accident in Borneo, Mr Dukes is partially paralysed, unable to talk and can only give signals by blinking and squeezing people's hands.
He has had five operations and part of his skull has been removed.
Mr Dukes was found by his girlfriend collapsed in the road.
Mrs Dukes said: "It was the worst day of our lives, we had a telephone call from Terry's girlfriend, she said that Terry had had an accident, he'd tripped and knocked his head on the pavement and he had fractured his skull.
"We just couldn't believe it, he was miles and miles away and we could do nothing about it but just hope and pray."
The Sultan of Brunei stepped in to cover the cost of the repatriation following a request from the family as Mr Dukes' medical insurance did not cover the cost.
Mrs Dukes said: "Our life has been a living nightmare these past four months, we'll be able to see him whenever we want, we can't thank the Sultan enough for allowing him to come home.
Flight doctor Thomas Duncan said Mr Dukes had been aware he was being brought home and described his condition as "very stable".
Related Internet Links
The BBC is not responsible for the content of external sites.