Jo Yeates's parents 'will not forget' her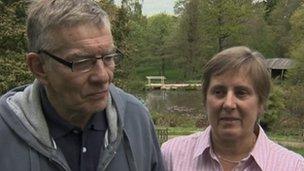 The body of 25-year-old Jo Yeates was found near Bristol on Christmas Day, 2010.
She had been strangled by neighbour Vincent Tabak who was later jailed for 20 years. For her parents, it was the start of a life sentence.
"When I think I've had my last words with Jo it brings an air of despair," says her father David Yeates.
"Because we have had all we are ever going to have of Jo and I don't think I'll ever come to terms with that.
"It's not a question of seeing somebody it's just hearing their voice and knowing they are somewhere and I think not being able to communicate is the hardest thing, well it is for me anyway.
"Because she was living away from home so we didn't see her on a daily basis but we did enjoy her phone calls... hearing what she was getting up to."
Mr Yeates and his wife Teresa were speaking at the garden which has been planted in tribute to Miss Yeates near her family home in Hampshire.
Friends and family raised funds for the garden at Harold Hillier Arboretum, near Ampfield, where Miss Yeates once worked.
Miss Yeates's father David had suggested the theme of a butterfly garden based on work his daughter had done at the gardens during her time there.
Mrs Yeates said: "I find, when I go to Jo's grave or just walk about the garden, I do see butterflies and it does make me think of Jo.
"Perhaps I think of it as her fluttering around, a very gentle insect but flying free, that's how I think of Jo."
"I think she would have been surprised and pleased and she would have been very impressed with it.
"It's unique and it's different and it's everything that Jo liked, something that's very different, that's always the way she was with things and I think she's probably looking down at us now looking at what is going on."
Mr Yeates added: "I've got a picture in the house and I think it appeared in the papers, she was of her sitting in the garden and we hadn't cut the grass and there were daisies and she was intent on making something with cardboard I think.
"When I think of Jo she was intent on being outside, totally concentrating on what she was doing, and I don't think she was aware I took the photo.
"She was unassuming, happy, always thinking of the positive side of things."
The couple still do not really understand why their daughter's death sparked such intense media interest.
"It surprises us, to us she was our special girl because she was our daughter but I guess in the scheme of things I just thought of her as an ordinary girl," said Mr Yeates.
"It's something we never expected to happen even after we knew that she'd been killed. We got quite used to it and stopped questioning it as to why because we don't know what the answer is. I really don't know what it is about Jo that touched people.
"I think it's the whole intrigue," added Mrs Yeates.
"The time of year that it happened, her disappearance and then Christmas Day."
While the national spotlight will eventually move on they will never forget her.
"Jo is always in our thoughts and never leaves us," said Mr Yeates.
"I know a lot of people say that but in our case that is absolutely true. There isn't an hour that goes by that I don't think of Jo in some way or other."
Related Internet Links
The BBC is not responsible for the content of external sites.