Search and rescue helicopter winch exercise over Solent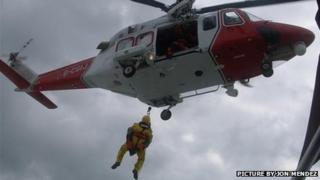 "Don't make out it's a really dangerous and difficult job," Coastguard search and rescue helicopter pilot Capt John Rooney says.
The BBC had been invited to observe a training exercise on board the AgustaWestland (AW139), based at Lee-on-the-Solent airfield in Hampshire.
"It's not a black art," Capt Rooney says.
"There are protocols we stick to and practise religiously. There are very few situations not covered by the training we do.
"Things can be difficult and challenging but we don't let them deteriorate."
Capt Rooney received the Chief Coastguard's Commendation for the rescue of 24 crew members airlifted off a freight vessel sinking off the Channel Islands in 2006.
"It had listed 30 degrees, it was a gale force and it was chucking it down," he recalls.
"It was a horrible night, pitch black, but we managed to airlift all the crew to safety."
Simon O'Mahony is the helicopter's winchman and paramedic.
The former Bristow Helicopters operations employee explains why he opted for a career change: "It was a little more responsibility for a little less money."
But behind the self-depreciating humour, Mr O'Mahony, originally from Cleethorpes, Lincolnshire, is only too aware of the risks.
He became tangled in a yacht's sheets during the rescue operation of two sailors whose boat was sinking off the Isle of Wight on 14 April, 2010.
But after being freed by winch operator Dave Peel, they went on to save the crew.
They were both awarded the Billy Deacon Search and Rescue Trophy, last year.
Mr O'Mahony explained how stricken mariners responded to being told they are about to be winched: "We don't tell them, we just tell them they're going on the helicopter."
It was only during a safety brief that O'Mahony informs me I am to be winched, on-and-off a moving yacht in the Solent.
"I'll need to clear this with my boss first," is all I can say.
'Assault on senses'
"Well it's not for everyone," Mr O'Mahony tells me. "The noise of the rota blades, the view of the drop, the smell of sea - it's an assault on the senses."
As the brief continues inside the grounded helicopter, he advises me to adopt the brace position, with one hand on the escape exit, "in the very unlikely event that we crash into the sea, or something goes wrong", before strapping me in.
Capt Mark Jackson and winch operator Ian Copley, who complete the four man crew, are now also on board.
All I can hear is the thunder of the rota blades as we climb. Then we are hurtling over the Solent, where below us a skipper is sailing his yacht as part of the exercise.
The helicopter hovers at about 50ft, then Mr O'Mahony is out the door and disappears from sight as he descends.
I am ushered towards the exit by winch operator Copley.
There is a tug and I am launched off my feet by the dual hoist system.
Then I am out of the door and being winched down.
Mr O'Mahony is right. It really is an assault on the senses.
Sea-spray is in my mouth and eyes as the deck of the yacht, which had seemed an impossibly small target, rapidly expands below me.
I am dangling above deck, like a puppet on a string, before Mr O'Mahony grabs one of my legs with one hand, and my midriff with the other, then manoeuvres me on board.
It is over in a flash. But before I can take it in, Mr O'Mahony locks his harness to mine, his legs are wrapped around my waist and we are climbing back towards the helicopter.
Policing 'more dangerous'
It looks as though we are on a collision course with the underside of the helicopter as we rise.
But Mr O'Mahony guides us through the aircraft's open door, straps me in, then we are heading back to the airfield.
It is just another day's work for the crew.
Capt Rooney says later a police officer's job is more dangerous than his and that he would have no qualms about allowing his children to follow in his footsteps.
There are two AW139 helicopters in operation on the south coast, one at Lee-on-the-Solent and one at Portland.
The helicopter based at Solent, which cost 9.5 million euros, has a team of engineers and is available all day, every day. Last year it attended 219 incidents.
Search and rescue helicopter response is currently provided by the Ministry of Defence from eight military bases, and four from Coastguard bases, operated by a civilian contractor.
Eventually the 12 bases will be replaced with 10, provided by civilian contractors who win the competition for tender.
Lee-on-the-Solent will remain as a search and rescue helicopter base.