Goal-line technology Hawk-Eye in first match test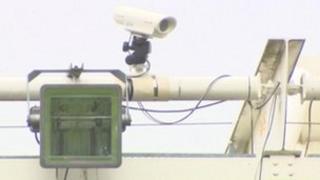 Goal-line technology is being tested at a football match for the first time.
Hawk-Eye, a camera-based system, will be used at the game between Eastleigh FC and AFC Totton at St Mary's Stadium, home of Southampton Football Club.
The system uses 14 high frame rate cameras which can relay a decision to the referee within one second.
Developed in Basingstoke it is being used at the match for research by Fifa and will not have an impact on the outcome of the game.
Dan Berry, from Hampshire FA, said: "It should be fantastic. It's going to be the first live test of this new software. It's been argued that it's long overdue and I think it's a really exciting move forward."
Hawk-Eye is one of two systems chosen by the International Football Association Board (IFAB).
Originally developed to track missiles in flight, it uses the cameras to accurately plot the trajectory of the ball.
The second system is GoalRef which utilises a magnetic field with a special ball to identify a goal. It is being developed and tested at matches in Denmark by German-Danish company Fraunhofer.
Mr Berry said: "We're hopeful that both will be allowed and we'll get some goal-line technology in."
Members of the IFAB will meet in Kiev on 2 July to decide whether to approve the usage of the technology.