CPO Brian Diamond from HMS Diamond given diamond medal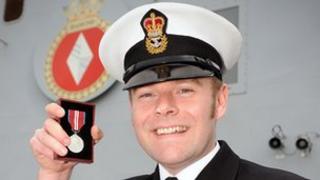 A Royal Navy engineer called Brian Diamond serving onboard HMS Diamond is to receive a Queen's Diamond Jubilee Medal.
Chief Petty Officer Diamond has served on the Type 45 destroyer in Portsmouth since it entered service in 2010.
He has been in the navy for 13 years and qualifies for the medal which is being presented to armed forces personnel with five years' service.
The 30-year-old said he felt proud to receive the honour.
He added: "When I joined HMS Diamond - my namesake ship - it raised a few eyebrows. But now to receive a diamond jubilee medal in addition to that I feel really proud - this is a special time for the whole nation."
CPO Diamond, from Portrush in Northern Ireland, works on the ship's propulsion system.
He will be part the 190-strong crew on the ship's maiden operational deployment to the Gulf next month.
Another 11 crew members on HMS Diamond received the medals in a ceremony on board the ship at Portsmouth Naval Base.