Jubilee journey for Sir Robin Knox-Johnston on Suhaili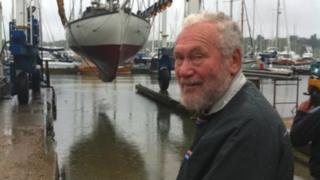 Among the hundreds of boats preparing for the Thames Diamond Jubilee Pageant is a 32ft yacht with a unique place in sailing history.
Sir Robin Knox-Johnston, 73, is repairing Suhaili on which he became the first person to circumnavigate the globe solo and non-stop in 1968/69.
The Burmudan Ketch was lowered into the water off Gosport, Hampshire earlier in May, for the first time in six years.
"It was fabulous feeling her move under my feet again," said Sir Robin.
"The great thing about the Jubilee Pageant is that it's given me something to aim for, to get her back sailing," he added.
The years had taken their toll on the Indian iron bolts holding the record-breaking boat together.
Log of teak
So far about 600 of the estimated 1,200 rusty bolts have been replaced with bronze ones - enough to allow Suhaili to journey to the Thames to join the flotilla which will assemble on 3 June to mark the Queen's Diamond Jubilee.
Sir Robin said: "She's been such a part of my life and still is."
In 1963 Sir Robin was only 24 when he started building Suhaili in a Bombay boatyard from a solid six-tonne log of teak. He sailed home via South Africa, a journey which he recalls was "very useful training for me".
In attempting to claim the Sunday Times' Golden Globe prize for circumnavigating the globe, he spent eight of his 10 months at sea without a working radio, used an old pub barometer to forecast the weather and calculated his position using a sextant.
He sailed into Falmouth on board Suhaili on 22 April 1969, 312 days after departure.
Many of those who have completed the circumnavigation since have had the benefit of using large ocean-going racing yachts made of new, lighter materials with satellite navigation and the latest communications technology on board.
It is no surprise that there is still a special bond between skipper and yacht.
Sir Robin said: "She's still my favourite boat and a boat I want to get out and sail as soon as I can.
"I just enjoy being out in her. I know her pretty well and I think she's got used to me."
"The Jubilee Pageant is going to be one of those great occasions that everyone will be talking about and referring back to for a very, very long time. It's just going to be a phenomenal occasion and it will be wonderful to be there."