New Forest river re-routing plans criticised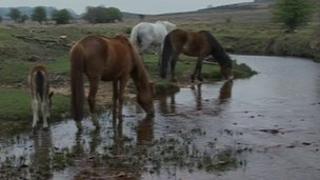 A scheme to move a meandering stream in Hampshire has met with criticism from a group of local residents.
The Forestry Commission wants to restore Latchmore Brook, near Hyde, back to its natural meandering course.
Erosion is being caused by the stream after it was artificially deepened and widened in the early 20th century, the commission says.
However, Friends of Latchmore are opposing the work that will see 10,000 tonnes of gravel dumped in the stream.
Members of the group say the current way the water runs supports significant, protected wildlife such as dragonflies, plants, birds and fish.
But Kevin Penfold, of the Forestry Commission, said: "It's about restoring the stream and reconnecting it with the flood plains stopping erosion that is happening across the forest."
The work has the support of Natural England, the Environment Agency and the New Forest Verderers but residents says the proposals would damage the environment.
John Shepherd, of the Friends, said: "They're talking about bringing in 10,000 tonnes of gravel and dumping it in this stream to move it into another course just a few yards away.
"We cannot see how that can do any good."
The New Forest Association said that after it was previously altered the stream became disconnected from its floodplain.
Peter Frost, of the association said: "It's a beautiful place now because nature has softened some of the edges but it is in the process of serious erosion."