Gunwharf Quays evacuated after fire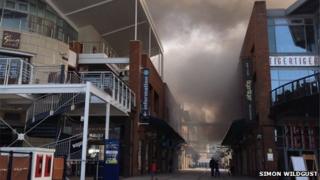 Gunwharf Quays shopping and leisure centre in Portsmouth was evacuated following a major fire.
The blaze started in the extractor system of the Water Margin Chinese restaurant. It has now been put out and the complex has reopened.
Eyewitness Dave Hartley said: "We evacuated and a large plume of smoke was visible from the Water Margin area. Flames were visible as well."
The fire service was called at 09:15 BST and the complex reopened at midday.
No-one is thought to have been injured.
Spinnaker Tower operations manager Simon Wildgust said: "We were just about to open up.
"I could see clearly they were big flames, but it was all handled very well, and we managed to get anyone out of the way."
Speaking from the scene, BBC reporter Dominic Blake said: "Flames were visible on the outside of the building.
"The fire alarm could be heard from as far away as Gosport."