Shaggy Baudet du Poitou donkeys get haircut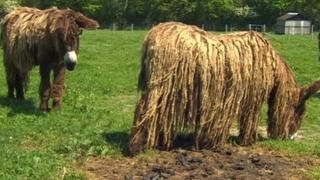 A collection of rare hairy donkeys have been trimmed because of the hot, sunny weather.
Seven Baudet du Poitou donkeys were recently brought to Norley Farm, near Lymington, Hampshire, from France.
Owner Annie Pollock has started to cut up to 17 years of hair growth to stop the animals becoming irritated and overly hot.
She said: "It's not very nice being sweaty when you are this hairy."
Ms Pollock has kept Baudet du Poitou donkeys, which can grow up to 1.6m high at her New Forest farm for eight years.
'Brink of extinction'
There are believed to currently be about 75 of the animals in the UK, and only 950 in the world.
She now has a total of 25 and says she is aiming to bring the breed "back from the brink of extinction".
The seven latest additions to the herd arrived from France in April. They had been moved from the Haras Nationale, the French Horse and Riding Institute, after changes to its funding meant they could no longer be kept.
While the animals are used to hot summers in France, the French tradition has been not to trim their coats.
This allows long knotted dreadlocks to form, which can reach ground level.
For centuries the dreadlocks have been seen as a sign of strength for breeding working mules.
Ms Pollock and a team of volunteers are now trimming the retired donkeys by hand.
"Personally, I just think they are a bit more comfortable trimmed.
"They don't tend to stand out in the sun - I don't think they really like the really hot temperatures."