NHS Direct failed to diagnose Gary Lovett lung illness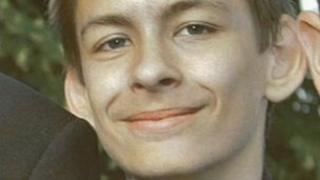 A 20-year-old charity worker from Southampton died after medical staff failed to spot that he was suffering from a serious lung illness.
A narrative verdict after an inquest into Gary Lovett's death described how he was told that he probably had flu.
The coroner said it was likely Mr Lovett had been suffering from bronchopneumonia, which had not been spotted by doctors and nurses.
He died in hospital on Boxing Day, 2010.
The inquest took place in Southampton earlier this month but the findings have just been released.
'Flu treatment'
During the hearing, the court was told of a series of phone calls made to Mr Lovett's GP and NHS Direct when he was advised that he should take over-the-counter medication.
In the days before Christmas 2010 Mr Lovett's condition deteriorated and on Christmas Day his parents, Rob and Tracey, called NHS Direct and were advised that their son should take flu treatment.
By the afternoon Mr Lovett's condition had deteriorated and he was taken by his parents to an out-of-hours GP who prescribed antibiotics and sent him home.
Later, when Mr Lovett's condition became critical, his parents called an ambulance but he died the following day at Southampton General Hospital.
The coroner said it was likely that Mr Lovett had been suffering from the early stages of bronchopneumonia in the days before his death and that a number of medical professionals had failed to identify the risk to his life.
'Followed advice'
A statement released by his parents said: "Over those days of Christmas 2010 we had asked for medical help and gone through all the procedures asked of us and Gary.
"We listened to the advice of the doctors and nurse, and followed the advice, which reassured us that Gary's condition was less serious than it really was.
"Both the GP surgery and A&E department are only five minutes from our home.
"If we'd not received that advice from NHS Direct and the out-of-hours service we would have just taken him to hospital."
NHS Direct admitted failings in how it had handled Mr Lovett's care. It said the nurse who gave the advice to Mr Lovett had been sacked.
Solent NHS Trust said it would be reflecting on the verdict and would see if there were lessons to be learned.