Shirley Towers fire: No HSE prosecution over firemen deaths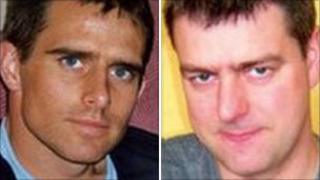 Nobody is to be prosecuted following the deaths of two firefighters in a blaze at a Southampton tower block, the Health and Safety Executive (HSE) said.
James Shears, 35, and Alan Bannon, 38, died tackling the blaze at the 15-storey Shirley Towers on 6 April 2010.
Hampshire Police launched a criminal investigation at the time but no charges were brought.
Now an HSE spokesman has confirmed they will not pursue a prosecution. All residents were rescued from the fire.
The findings from the HSE and police investigations will be passed on to the coroner to form part of the inquest on 18 June.
The blaze which killed the two men started in the ninth floor of the tower block in Church Street after a curtain left draped over a light bulb caught fire.
Mr Bannon was pronounced dead at the scene of the fire and Mr Shears died in hospital.
Post-mortem tests showed Mr Shears, of Poole, Dorset, and Mr Bannon, of Bitterne, Southampton, died from exposure to excessive heat.