HMS Diamond marks Jubilee with Portsmouth celebrations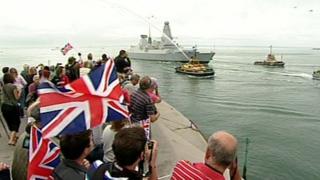 The crew of one of the Royal Navy's newest warships has held a "street party" on its flight deck as part of the Diamond Jubilee celebrations.
The Type 45 destroyer HMS Diamond arrived at Portsmouth Naval Base, giving a 21-gun salute.
The event launches a weekend of celebrations.
The ship's arrival was accompanied by a flypast of helicopters and a Typhoon. The party was for the 190 crew and guests.
HMS Diamond's commanding officer, Commander Ian Clarke, said: "It is a real honour for HMS Diamond to salute Her Majesty the Queen as she celebrates not only 60 years on the throne, but 60 years as head of the armed forces".
The ship, commissioned in Portsmouth in May 2011, entered Portsmouth Harbour at 10:30 BST.
Two Merlin and two Lynx helicopters flew overhead in a diamond formation and there was a flypast by an RAF Typhoon.
Hundreds of people gathered along the shoreline to see the warship arrive. BBC reporter Tim Robinson at the Round Tower said there was "an air of enthusiasm and patriotism at the start of a weekend of celebrations".
Able Seaman Holly Cole, 19, from Portsmouth, said: "It felt really good to be a part of the celebrations, I'm really proud.
"Sometimes when you see a picture of the Queen you think, 'She's my boss' so it's nice to be able to honour her today."
Chief Petty Officer Brian Diamond, 30, originally from Portrush, Co Antrim, but who lives in Gosport, Hampshire, said: "It was nice to think the nation's focus was on us today."