Emsworth fox cub freed from narrow garage cavity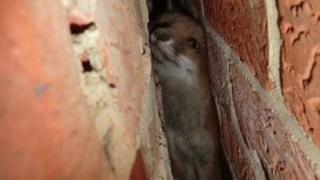 A fox cub that got trapped in a small cavity between two garages in Hampshire for more than 36 hours has been freed by the fire brigade.
Animal rescue specialist Buster Brown had to remove bricks inside one of the garages in Emsworth to get to the cub.
Mr Brown said: "Once a hole was made I realised the cub had moved slightly so I had to make another."
The process to free the male cub took two hours. After its rescue it was checked over and released.
Mr Brown added: "I had to remove the bricks carefully to ensure I didn't injure the animal."