Vince Cable opens vehicle export terminal in Southampton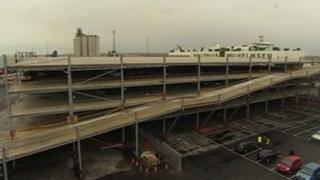 A fourth terminal for exporting British-built cars has been opened in Southampton by Business Secretary Vince Cable.
The new £7.5m multi-deck facility at Southampton docks is to accommodate vehicles being shipped to overseas markets, particularly China.
Associated British Ports (ABP) also announced a further £7m investment in a fifth terminal.
Mr Cable called it "a real success story" for the port.
Some 363,000 cars were exported through Southampton in 2011, compared to 262,000 in 2009.
The terminals will handle vehicles for export including BMW Minis, Hondas, Jaguars and Land Rovers.
ABP's Doug Morrison said: "Europe's got problems, so we'll see a decline to European hubs but certainly volumes will continue to grow here."
As part of his visit to Southampton to promote manufacturing industries, Mr Cable also visited Griffon Hoverwork which has recently secured a contract to supply India's coastguard service with 12 hovercraft worth about £34m.