Hampshire and Isle of Wight campaign to protect marine life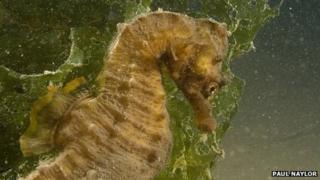 Moves to protect rare marine wildlife are being hampered by government delays, The Wildlife Trusts has said.
A campaign launched in Hampshire and Isle of Wight aims to highlight areas in the Solent that are home to species including seahorses and spoonworms.
The trust said marine environment health had reached a "crisis point" and would "continue to decline" unless protection zones were set up.
A government spokesman said "gaps in evidence" have caused the delays.
Jolyon Chesworth, head of the Hampshire & Isle of Wight Wildlife Trust, said activities such as "recreational sailing and fishing practises" were leading to "habitat degradation".
He added "heavily dredged sand and gravel" around the Isle of Wight for use in the building industry also contributed.
He urged the Department for Environment, Food and Rural Affairs (Defra) to stop the delay in setting up 127 Marine Conservation Zones (MCZs) in English and Welsh waters, of which there are nine planned for the Hampshire and Isle of Wight.
Mr Chesworth said: "We have some wonderful and fascinating marine life around our shores.
"Chalk reefs encrusted with sponges and corals, underwater meadows of eelgrass, rare seaweed species and bizarre creatures such as seahorses, spoonworms and stalked jellyfish."
Bembridge is only one of two sites in the South East where you can find both the long snouted and the short snouted seahorse.
Seals also feed in the areas of Selsey Bill, Fareham Creek and Bembridge.
The campaign, called Friends of Marine Conservation Zones, hopes to pressure the government to protect these areas - after moves to introduce protection were delayed until next year.
Simon King, President of The Wildlife Trusts, said: "We have reached a crisis point for the health of our marine environment. We need to act now."
A Defra spokesman said it remained "committed to creating a network" of MCZs but wanted to ensure the "zones are created in the right places and in the right way.
He added: "It is clear from the Scientific Advisory Panel's advice that there are some gaps in the evidence supporting MCZ recommendations."