Nelson's HMS Victory becomes Marvin Ayres' recording studio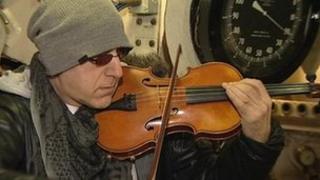 A musician who composes in unusual places is recording onboard HMS Victory in Portsmouth.
British composer, cellist, violinist, pianist and producer Marvin Ayres is composing and recording on the 247-year-old battleship where Admiral Nelson lost his life during the Battle of Trafalgar.
The recording session has been commissioned by the National Museum of the Royal Navy as part of a musical quartet to celebrate the navy's four aspects, the sea, under the sea, in the air and on land.
Mr Ayres will play cellos, violins and violas in one of the gun decks of the oak ship.
He said: "I have to get myself acclimatised to the space.
"I'll clap my hands and sing, then I re-tune the instrument to the space to maximise the natural empathetic reverb so it becomes in harmony with the structure."
'Capturing essence'
He said he also hopes to record "a little something" on the spot where Nelson was shot by a French marksman.
Reverberations onboard the battleship will be recorded to use as an additional composition.
Mr Ayres said: "It's like capturing it's essence."
HMS Victory is the third in the series of recordings.
Last year, Mr Ayres recorded sounds, echoes and reverberations in the tight space of 1940's submarine, HMS Alliance for the under the sea piece.
The in the air movement has been recorded in the hangars of the Fleet Air Arm Museum in Yeovilton.
The final piece of music - the on the land element - is expected to be recorded in the vaults of the Royal Marines Museum in Southsea.