Waterlooville pupils in Holocaust buttons memorial appeal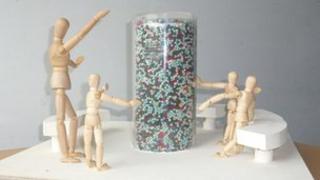 Hampshire schoolchildren have collected almost half a million buttons to build a memorial to genocide victims.
Pupils at Oaklands Catholic School in Waterlooville have been collecting buttons for a year and are almost half way to their target of a million.
The project, guided by teacher Mugeni Sumba, was the idea of his then Year 9 pupils.
They started it after seeing a film on the Paper Clips memorial project in the US to World War II holocaust victims.
It involved children at Whitwell Middle School, Tennessee, who collected 6m paper clips.
Mr Sumba said: "In Year 9, we talked about hatred and intolerance and what it leads to. We looked at the Holocaust and one of the films that we watched was Paper Clips and when the children saw it they also wanted to do something."
Mr Sumba said after a lengthy debate on what material to use, the students chose buttons to signify human dignity, because its connections to people's clothes and the fact such garments were taken away from genocide victims.
The pupils drew up a design for the memorial which will be built in the grounds of the school in Stakes Hill Road.
"It will be the first thing you see when you drive into the school grounds," Mr Sumba said.
It consists of a transparent 2m-high (7ft) tube filled with the buttons and surrounded by circular benches. The plans were sent to an architect who created a scale model.
Mr Sumba said buttons had been sent from as far afield as Birmingham and Cornwall, many with letters explaining where they came from.
The school is now looking for a sponsor to help it raise funds for the construction of the memorial, estimated to cost between £7,000 and £10,000.
It is hoped it will be completed by summer 2013.