Charles Dickens characters displayed on Royal Mail stamps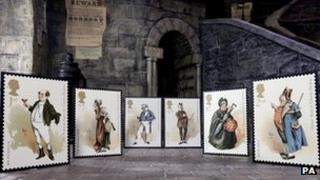 The characters of Charles Dickens are featured on a new set of Royal Mail stamps.
Their release marks the bicentenary of the birth of Dickens, famous for Great Expectations and A Christmas Carol.
The Victorian novelist's great-great-great granddaughter Lucinda Dickens-Hawksley called them a testimony to a "unique and extraordinary man".
Royal Mail spokesman Philip Parker called the Portsmouth-born writer "one of the truly great British novelists".
"We couldn't think of a more fitting tribute to his life and works than celebrating them on a set of special stamps," he added.
'International celebrity'
The first-class stamp features Mr Pickwick from The Pickwick Papers, and the second-class features Mr Bumble from Oliver Twist.
The remaining four stamps showcase The Marchioness from The Old Curiosity Shop, Mrs Gamp from Martin Chuzzlewit, Captain Cuttle from Dombey and Son, and Mr Micawber from David Copperfield.
Life-size versions of the stamps were shown at Charles Dickens World in Chatham, Kent.
Ms Dickens-Hawksley said: "When Charles Dickens was born into an impoverished home in 1812, no-one in his family imagined he would become an international celebrity.
"Royal Mail's decision to produce stamps to commemorate the bicentenary of his birth illustrates the phenomenon he became in his lifetime and still remains today."
The works of Charles Dickens have never gone out of print, and more than 200 films and TV adaptations have been based on his works.
He died in Gads Hill Place, his home in Higham, Kent, in June 1870.