Councils get more Gurkha funding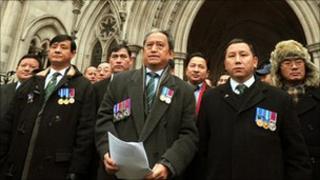 A Hampshire council is to receive a further £400,000 to support the integration of Gurkha soldiers and their families into the UK.
Rushmoor Borough Council had already been allocated £500,000 from a £1.5m government fund.
Up to 10% of the population of the borough is Nepalese.
Kent County Council, Nuneaton & Bedworth Borough Council and the Royal Borough of Greenwich will also receive money from the fund.
Rushmoor council leader Peter Moyle said: "We're pleased that the government has recognised the local issues and need for additional resources in Rushmoor.
"Over the last couple of years, services in Aldershot and Farnborough have been under great pressure due to the arrival of a large number of Gurkha soldiers and their dependents.
"The funding will allow us to continue our work locally and share our expertise with other local authorities so they can better support Gurkha veterans and their families and make it easier for them to settle there."
'Our duty'
William Shuttlewood OBE, director of the Gurkha Welfare Trust, said it was a "much-needed initiative ".
"Gurkhas have served in the British Army on our behalf for almost 200 years and it's our duty to do all we can to support them in retirement," he said.
"We're looking forward to continuing our work in partnership with local councils and other agencies not only by providing welfare and other support but also by helping to promote integration within local communities."
The trust will be working with the council to allocate funds.
Among their plans are the establishment of a "special interest group on Gurkha settlement" and an English language support centre to help them "improve their employability and build better community relations", Mr Shuttlewood added.
Kent County Council and the Royal Borough of Greenwich have been allocated £200,000 each, while Nuneaton and Bedworth Borough Council has been given £50,000.
The government is investigating how to use £150,000 to improve English language support for Gurkhas and their families.
In 2009 the government allowed Gurkha soldiers who had retired before 1997 to settle in the UK, which followed a high-profile campaign led by actress Joanna Lumley.
Many moved to north Hampshire because of its links to the military and its established Nepalese community.