Isle of Wight festival exit plan hailed a 'success'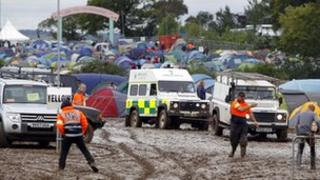 An emergency exit plan put in place following traffic chaos at the start of the Isle of Wight festival has been hailed a success by local agencies.
Stuart Love from the Isle of Wight Council said its efforts had been "successful" and transport terminals had been "operating well".
Ch Insp Nick Heelan from Hampshire Constabulary said: "Everything appears to be going to plan."
Traffic leaving the site in Newport has been controlled to prevent congestion.
Extra police officers and more than 100 four-wheel drive vehicles had been drafted in to help drivers to leave.
Organisers and the council have promised "lessons will be learnt" following the arrival problems.
Many festivalgoers arriving on Thursday had to sleep in their cars when the site became flooded and inaccessible with mud.
The queues caused ferry companies to suspend their services and about 600 people were stranded on ferries on the Solent as the cars could not disembark because of backed-up traffic on the island.
'Far from impassable'
Extra cross-Solent ferry sailings have been laid on to help the exodus. Arrangements have also been put in place to allow people to travel if they miss the crossing they are booked on.
On Sunday festival organisers urged drivers not to move their cars out of car parks and leave them on verges as it could cause obstruction later.
Many festival-goers decided to leave early ahead of Bruce Springsteen's closing night headline performance.
Neil Baker, from Tunbridge Wells, who was among the first to leave on Monday morning, said: "It's wet but far from impassable. There's plenty of help and three tractors in our field ready to go."
Police said motorists should should test their brakes, clean their rear lights and take extra care because of mud on the roads and on vehicle tyres.
'Contingency planning'
Festival organiser John Giddings apologised to fans for the problems.
"I hope that I have made up for it by providing one of the best weekends of music ever," he said.
He hit out at criticism from the Isle of Wight MP Andrew Turner that with 55,000 attending, the festival capacity was too large.
Mr Turner insisted he was a supporter of the festival, but said he had received "quite a lot" of complaints.
"There wasn't an adequate contingency in place.
"People attending the festival will put up with inconvenience, but island people couldn't attend work, school or even family funerals, that's terrible," he said.
Mr Giddings said: "He's a politician who has done nothing to help me in the 11 years I've been here. The slightest problem and he turns up with an opinion - it's ludicrous.
"I'd like you to tell me one thing he's done to help me put a festival on, on his island, which brings £10m to his economy. It's ridiculous, I'm livid."
Stewart Love, of Isle of Wight Council, said contingency planning and overflow parking would be looked at in the aftermath of the problems.
"There will be a very strong focus on learning lessons over the difficulties we had with car parks on Thursday," he said.
"We are aware residents and visitors had a tough time. This is the 11th year after 10 successful years of the festival."