Newborn foal rescued from New Forest estuary mud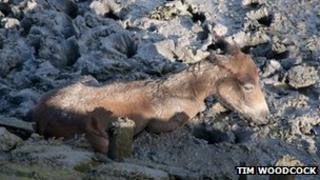 A newborn foal had to be rescued after getting stuck in deep estuary mud in the New Forest.
The 12-hour-old horse and its mother became trapped beside a sea wall at Ashlett Creek, near Fawley, early on Wednesday while the tide was out.
Fire service animal specialists carried the foal to safety and the mare, which had been guarding it, followed.
It is believed the foal, which had been born during the night, had fallen down a steep bank into the estuary mud.
Watch manager Buster Brown said: "After making sure that both animals were not injured I decided to move the foal away from the mare knowing that she would naturally follow me with her foal.
"I then picked the foal up and carried it up the steep bank. I placed it onto the grass meadow at the top, the mare quickly followed and, after a shrug of its coat and a whinny, both animals went off to feed on the lush meadow grasses with the foal suckling from its mother.
"The owner told me that her family always names new foals after bird names so she called this one Mud-lark, which seemed very appropriate."