Europe's first international submarine race held at Haslar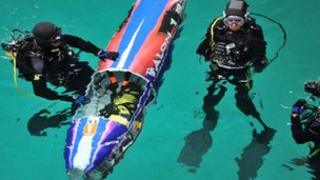 The first international indoor submarine race to be held in Europe is taking place in Hampshire.
The event is being held at Qinetiq, the former Royal Navy's testing facility at Haslar, Gosport, in a pool the size of a football pitch.
Race director Dr William Megill said it was an opportunity for students to do something "spectacular".
The event has a 20-year history in America but this is the first time it has crossed to Europe.
It normally attracts some 36 entrants from 28 institutions with between 300 to 400 students taking part.
However the Gosport race has six teams; three from America, two Canadian and one from The University of Bath.
'Serious competition'
The races are run over a 200m u-shaped course in the giant pool which measures 120m (394ft) by 60m (197ft).
Prizes will be given for the overall combined winner and for individual elements.
The boats are classed as Swimmer Deliver Vehicles because they are not airtight units and pilots need to wear scuba equipment to operate them.
The subs are capable of between six and seven knots.
Dr Megill said: "There is a friendly atmosphere but the kids are really serious about the competition.
"It is going to be a real challenge for them."