Henley Royal Regatta police 'to be firm' on misbehaviour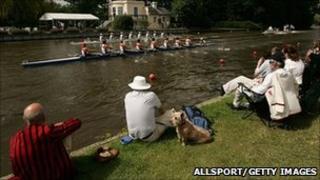 Visitors to the Henley Royal Regatta have been advised that police will be taking a firm approach to incidents of anti-social behaviour.
In 2011 a Designated Public Place Order was used for the first time, which meant police could confiscate alcohol.
Forty-five people were arrested during the five days in 2011, up by 30 on the previous year.
Event commander Ch Insp Christian Bunt said police would again be taking a firm approach.
There will also be additional officers on patrol at the regatta, which starts on Wednesday.
Thames Valley Police will be using Twitter to provide regular updates about how the regatta is going, the policing operation and details of train times and any traffic congestion.