P&O marks 175 years on the ocean waves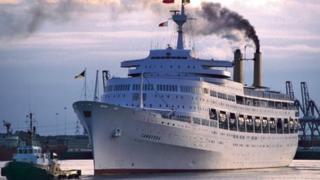 From its humble beginnings delivering Royal Mail to becoming the largest shipping company in the world, P&O has become a major name in the world of shipping.
It all started 175 years ago, in 1837.
During its years on the ocean waves, the company has carried royalty and Mahatma Gandhi, been targeted by German U boats, sent its "great white whale" to duty and even established its own bank.
When the Peninsular and Oriental Steam Navigation Company (P&O) first started running mail and passenger services to exotic ports its fleet was made up of 60 steamships and 52 tenders and tugs.
In the opening decade of the 20th Century the company had more than 1,000 ships in its various companies.
Southampton has long been P&O Cruises' home port. Its ships Tagus and Great Liverpool were the first to dock in city's new outer dock in 1842.
A set of steps in the dock, now Ocean Village Marina, are still known as "the P&O steps".
Carol Marlow, managing director at P&O Cruises, said: "When you've been based in a city since 1842, you get to feel part of the community."
The company said the secret behind its longevity is the company's unique "P&O-ness".
Ms Marlow said: "We tailor our ships and cruise holidays to suit British tastes, ensuring that passengers feel like they have a home away from home. It's about friendly, attentive service, familiarity, reassurance and a fabulous holiday."
Grand Event spectator map
[262kb]
Over the years P&O ships have hosted many royal parties and celebrities.
Gandhi sailed from Mumbai to Marseilles on board P&O's Clyde in 1881. Fifty years later he repeated the journey aboard Rajputana.
Orient Line's Ophir was chartered as a royal yacht for the 1901 Australian tour of the Duke and Duchess of Cornwall, later George V and Queen Mary.
The glamorous surroundings of Canberra were used for several scenes of the James Bond film Diamonds Are Forever, starring Sean Connery.
It has not all been plain sailing, though. The company lost 85 ships in the First World War and 179 ships in the Second World War.
One loss during WWI was the P&O liner SS Persia which became the first passenger ship to be torpedoed by a German U boat without warning.
The ship was south of Crete on its way to India with 500 passengers on board. Among them were Lord Montagu of Beaulieu, and Eleanor Thornton, his secretary and mistress. Lord Montagu survived, but Eleanor went down with the ship, along with over 300 other passengers.
Streaked in rust
One of its most famous ships was Canberra which had a 36-year career, sailing more than three million miles and carrying nearly a million passengers.
Following a world cruise, Canberra was requisitioned for trooping during the Falklands campaign.
After a two-day conversion in Southampton, in which a helicopter flight deck was put over the observation deck and swimming pool, the ship sailed for the Atlantic.
The ship spent 94 days with the task force, steamed more than 25,000 nautical miles, and landed most of the ground forces who went into action on the Falkland Islands.
Canberra returned to Southampton streaked in rust, carrying 2,000 troops, in July 1982, greeted by thousands of people who had gathered at the port to welcome them home.
The ship's career ended on 30 September, 1997, when it arrived in its home port of Southampton for the final time.
The shipping line will mark its 175th year by sailing its seven cruise ships - Oceana, Adonia, Azura, Oriana, Aurora, Arcadia and Ventura - into Southampton together on Tuesday 3 July.