HMS Protector returns to Portsmouth after Antarctic voyage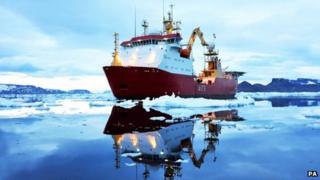 HMS Protector, the Royal Navy's ice patrol ship has returned to Portsmouth after its maiden voyage to Antarctica.
The 5,000-tonne vessel spent seven months patrolling the Antarctic peninsula, where it broke through ice to rescue a team of British scientists.
The return celebrates Protector's first successful deployment after joining the navy's fleet in June last year.
It has been leased as a replacement for HMS Endurance, which was damaged by flooding off the Chilean coast in 2008.
Norwegian flag
HMS Protector was built in 2001 as an Antarctic research ship but has undergone a refit for its new role.
The ship, formerly known as MV Polarbjorn, which entered Portsmouth under the Norwegian flag, was officially named HMS Protector on 1 June, last year.
The name Protector has a historic connection with Britain's Antarctic commitment, as it was the name of the Royal Navy's ice patrol vessel between 1936 and 1968.
HMS Protector has been leased for three years to fulfil the Royal Navy's ice patrol role in the Antarctic while the future of HMS Endurance, also known as Red Plum, is being considered.
Its duties also included carrying out detailed surveying of the sea bed for the UK Hydrographic Office and helping to resupply British Antarctic Survey stations in the region.