Campaigners challenge Vitacress expansion plan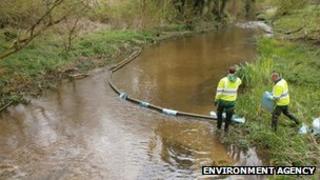 Environmental campaigners from Hampshire have gone to the High Court to try to stop a salad company building near a protected nature site.
Vitacress Salads, near Andover on the Bourne Rivulet, already has permission from Basingstoke and Deane Borough Council to extend its site by 40%.
Protesters say last month's diesel spillage by the firm shows the area is too fragile to allow more development.
They have mounted a legal challenge against the council's decision.
Vitacress grows and packages salad on the banks of the river and prides itself on washing its produce in fresh spring water.
Peter Evans, head of the campaign, said the river had been polluted on several occasions in the past.
Most recently, on 3 May about 1,000 litres of oil leaked into the Bourne, affecting a 10km (six-mile) stretch of the river.
Mr Justice Studland heard the site had previously been classed as agricultural, but was now considered industrial, which means less protection for the land.
Mr Evans, who is funding the challenge himself, said: "It has an unlimited industrial use, so the council has been unable to impose conditions on how much more it expands.
"So we could see a lot more expansion."
Mr Evans is challenging the reclassification and wants to force a full planning application and public inquiry into the environmental effects of an expansion.
He also wants the nearby Sites of Special Scientific Interest extended to encompass the Bourne Rivulet.
Vitacress said in a statement: "We employ 500 people, of which 350 work on the Lower Link Farm site.
"The plan will make Vitacress more competitive and protect jobs at the site through its quality and environmental improvements."