Human-powered submarine world speed record set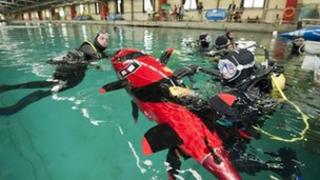 A Canadian team have set a new world record for a human powered submarine at the international indoor submarine races in Hampshire.
École de Technologie Supérieure team's submarine Omer 8 travelled at 3.6 metres per second (7.03kts) over a 13m section of the course.
The race was held at Qinetiq, the former Royal Navy's testing facility at Haslar, Gosport.
The UK, represented by Bath University, came in third.
Organisers said the world record had been accepted by the American-based International Submarine Races.
The race was held in a freshwater tank about the size of a football pitch
'Narrowest of margins'
It was the first time the competition, which has a 20-year history in America, had taken place outside the US.
The Canadian and American teams have been close competitors for many years.
Omer 8's team leader Emeric Robert said: "Before coming here we were determined to win a new world record, but once we knew that Florida was coming, beating them was all important.
"In the end we managed both, but by the narrowest of margins."
QinetiQ has been chosen to hosting the European International Submarine Races again in 2014.