Sophie Roberts to have US cancer treatment operation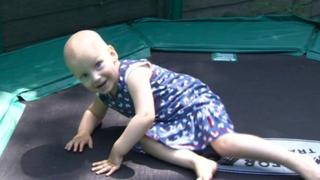 A Hampshire couple have managed to raise £230,000 to fund a US cancer treatment operation for their two-year-old daughter.
Sophie Roberts has a rare and aggressive form of liver and lung cancer and surgeons in the UK say they cannot operate on her.
A hospital in New York has said it will do the operation but it must be done by the end of July.
Andrew and Ruth Roberts have received donations from around the world.
Refused to operate
They only began fundraising two weeks ago and have also remortgaged their home.
Sophie was diagnosed in June 2011 with liver cancer - Hepatoblastoma - which had spread to her lungs.
Her family were told she had only a 30% chance of survival.
After enduring seven rounds of chemotherapy and liver and lung surgery, Sophie went into remission in March 2012.
But in early May the cancer was found to have returned aggressively throughout her lungs and she is once again being treated with chemotherapy to control the disease.
Two teams of surgeons in the UK have declined to operate on Sophie because they do not think they will be able to remove all of the tumours successfully.
They have offered her further chemotherapy.
Mr and Mrs Roberts, from Church Crookham, were told that the best chance to save their daughter's life would be through specialist surgery, which can be carried out at the Memorial Sloan-Kettering Cancer Center in New York.
'Our beautiful girl'
They said: "We are so happy to say that we have hit our target after an incredible 6,000 donations from around the world, with even a dedicated fundraising site in France.
"That means we can go ahead and get Sophie the surgery that she needs to give her the best chance.
"We're looking forward to later in the year when hopefully our beautiful girl will be in remission again.
"Friends and family will continue to work hard for her cause over the coming weeks and months and anything we raise will be managed by Kids 'n' Cancer to help her and other children."
After reviewing Sophie's CT scans, doctors there told her parents the end of July would be the "optimum time to operate" for the surgery to be successful.