Army captain attempts a golf world record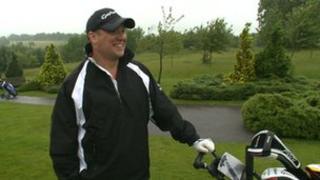 An army captain is attempting to set a world record for the most golf holes played in five days.
Capt Stuart Ball, of the Royal Logistic Corps based at RAF Odiham in Hampshire, is aiming to pot 450 holes.
He started the challenge at 06:00 BST on Monday, completing five rounds at an 18-hole course in Winchester.
It is all in aid of Help for Heroes and Scotty's Little Soldiers, a charity which helps the bereaved children of service personnel.
Capt Ball said: "On the first day it didn't stop raining from eight in the morning until eight in the evening - it was pretty emotional.
"But the golf went well - there was a slight wobble in the middle - but I finished on a high with three birdies in the last round.
"All the pain and suffering that I'm going to go through in the next few days is nothing compared to what the families of servicemen are going through at the moment."