MP Mike Hancock recovering after second heart operation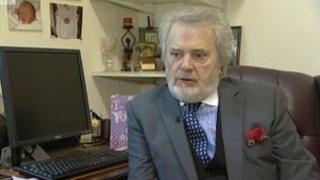 Liberal Democrat MP Mike Hancock is recovering in hospital following a second heart operation.
The Portsmouth South MP underwent an operation at Queen Alexandra Hospital in Portsmouth last Wednesday to place a stent in one of his arteries.
However, the 66-year-old required a further bypass procedure at Southampton General Hospital at the weekend.
Mr Hancock, who had been suffering from angina, hopes to return to parliament after the summer recess in September.
A spokesman at his Westminster office confirmed Mr Hancock would remain in Southampton General under observation for at least the next two weeks.
He said: "The second operation was a success, but doctors will be monitoring his recovery very closely in the first few days.
"Mike is getting better every day and he's been greatly touched by all the get well messages he's received since first being admitted to hospital.
"Parliament goes on summer recess from 17 July and returns in September.
"Mike is hopeful he'll be well enough to resume both his constituency and Westminster commitments by then."
Mr Hancock has held the Portsmouth South seat for the Liberal Democrats since 1997. He is also a Portsmouth city councillor.