European Commissioner joins row over cruise subsidies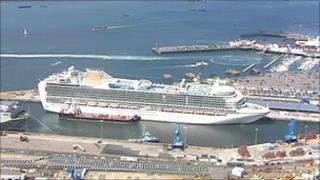 The European Competition Commissioner Joaquín Almunia has stepped in to the row between Liverpool and Southampton ports over cruise ships and state subsidy.
Liverpool City Council started running turnaround cruises from a temporary terminal at the end of May.
This was despite the UK government saying they should wait until Europe had agreed issues over state-funding.
Nearly £20 million was given to Liverpool on condition that the city didn't compete with existing operators in the North East and South of England.
European rules
The commissioner makes clear his displeasure at the move, saying in reply to a question by UKIP's MEP Marta Andreasen:
"The Commission has taken note of the press coverage on the City of Liverpool Cruise Terminal being used for turnaround cruises as of 29 May, 2012.
"The Commission is in contact with the United Kingdom authorities and has reminded them of their obligation to comply with EU state aid rules.
"As far as the ERDF funding is concerned, the Commission has written to the United Kingdom authorities requesting information to assess the change in use of the terminal in terms of its compliance with Article 30.4 of Council Regulation (EC) N° 1260/1999.
"Should the conditions of the ERDF initial grant offer letter no longer be complied with, a recovery of the ERDF grant might be necessary."
The move comes on the day P&O celebrates 175 years with a record seven ships departing from Southampton Port.
With 15,000 people leaving and boarding ships in one day it is the busiest day in the port's history. Many in Liverpool say they deserve a share of the booming cruise market, and could provide a more convenient departure point for people living in the Midlands and North of England.
But with most cruises heading South for the sunshine Southampton counters by pointing to the extra fuel and time involved in a more Northern departure.
And they say Liverpool Council has shown it never intended to stick to rules on funding, by pressing ahead with cruises before permission has been given.
Have Your Say
What do you think? Should there be more choice in the cruise market? Do state subsidies really mean Liverpool has an unfair advantage?
Leave your comments below.