Shirley Towers inquest: Fire could have been out sooner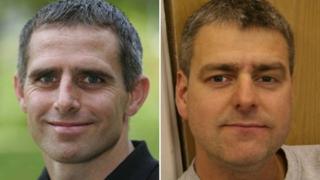 An inquest into the deaths of two firefighters in a Southampton tower block heard the blaze could have been extinguished sooner.
Jim Shears and Alan Bannon were overcome by excessive heat inside flat 72 of Shirley Towers on 6 April 2010.
The court heard from Richard Hunt, of London Fire Brigade, who led the investigation into the fire.
He said the method of spraying used by firefighters was not effective against the type of fire in Shirley Towers.
Mr Hunt told the court he understood firefighters had been trained to use a "pulse spraying" technique instead of using a continuous jet of water.
He said he understood firefighters had been trained to pulse spray for 20 or 30 minutes to extinguish a fire.
"If you turn up at an incident where persons are reported, you cannot take 20 to 30 minutes pulse spraying," Mr Hunt said.
"When you arrive at a room and you can see tonnes of flame then you directly apply water."
'Ventilated fire'
Mr Hunt said that although an emergency had been declared and it was known that firefighters were in trouble the spraying technique remained the same.
"That fire could have been extinguished with water supplies that were available at that time if there had been a direct application of water to the fire rather than pulse spraying techniques," he said.
"They were using pulse spraying, that is not effective on a ventilated fire in a compartment."
Mr Hunt did point out that his assessment had been made with hindsight and the teams had made "valiant" efforts to reach their colleagues.
Previously the court heard that the first crews who fought the fire were concerned that using too much water would create steam and endanger crews on the floor above.
Father-of-two Mr Shears, 35, was from Poole, Dorset, and had been a firefighter for seven years.
Mr Bannon, 38, of Southampton, had been a fireman for eight-and-a-half years and had one child.
The inquest continues.