Can a smart phone app help revive the local fish market?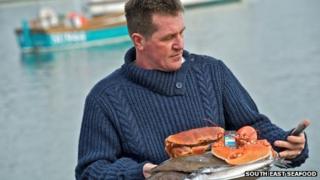 Britain's fisherman are facing tough times. But can modern technology help to revive the local fish market?
Some south coast fisherman are using a new smart phone app to connect directly with consumers who want fresh and locally-sourced seafood.
The Local Catch app and website means smart phone, tablet and computer users can bypass the supermarket and receive alerts telling them where they can buy seafood recently caught in their area.
Creators South East Seafood, a body representing local seafood businesses in the south, said people can then visit their local fishmongers or arrange to meet fishermen down on the quayside to buy fresh fish straight from the boat.
Fisherman Peter Williams uses his small fishing boat Lizzy Lou to catch fish and crab off Hampshire and the Isle of Wight.
He uses the Local Catch website to provide live information about the amount and type of fish he has caught each day and where he will be selling it.
"Historically people don't really know where to get fresh fish from. This way people can make a choice about where they get their food and play a part in where their food is landed," he said.
"It's nice for the customer to be able to buy straight from the fisherman and know exactly where the fish comes from and where it was caught and that it is local and wild fish.
"This way we can interact with the public and get feedback and become part of the community - which can be difficult when you are often out at sea and dictated by the tides and weather.
"It doesn't just have to be the general public using the app - it can be restaurants and retail outlets and wholesalers - who can come directly to us and access local fish caught straight from the boat."
'Better deal'
Mr Williams said customers can buy as little or as much as they want and be sure that what they are taking home is no more than 45-hours old.
Henriette Reinders, director of South East Seafood, said it also means a fairer price for fishermen.
"It will put them in contact with a much wider range of buyers than ever before, creating a better deal for everyone involved," she said.
"Local Catch is all about supporting the local fishing community and getting the freshest possible local fish.
"Residents along on the south coast are the first to trial this exciting scheme. If everyone in the community gets behind Local Catch it could be a real local success story, revolutionising the way we get our fish."
Local Catch is free to download now from the Android Market and will soon be available on iPhone. Customers can also sign up to alerts online.