Cruise ship row: Liverpool 'used Trojan Horse tactic'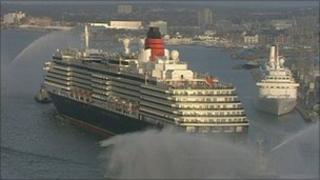 Liverpool has been accused of using "Trojan Horse" tactics by a Hampshire MP in the port's row with Southampton over cruise ships and state subsidy.
Liverpool received almost £20m from the UK government and Europe on condition ships only made sight-seeing visits and did not start and end holidays there.
But its port is now running what are known as "turnaround" cruises.
Southampton port thinks Liverpool has an unfair advantage, which will result in it losing trade to Merseyside.
Liverpool City Council said the change of use to turnaround cruising was "compliant with European law".
Liverpool dock owners were given permission to host these cruises if they repaid an £8.8m share of public subsidy used to build its new terminal.
'Bad faith'
But the government has admitted it is "powerless" to make Liverpool pay back millions of pounds.
In a special debate on the issue, Julian Lewis, Conservative MP for New Forest East, said: "Their [Liverpool's] approach was to build as a port-of-call facility and address turnaround later, so it seems they were using a sort of Trojan Horse tactic in this case and acting in very bad faith."
Caroline Nokes, Conservative MP for Romsey and Southampton, said: "To ensure that an apparent 'anything goes' attitude to the use of taxpayers' money is halted forthwith and in these difficult times, the private companies, which we wish to see lead the economic recovery, are not disadvantaged by unfair competition from a state subsidised operation which appears to have no respect for the rules of competition."
Transport Minister Mike Penning said Liverpool had agreed to pay back the money to the government but the cash from Europe was a matter for the European Commission.
'Boost economy'
Labour MP for Southampton Itchen John Denham disagreed, saying: "This is not a matter where the minister can simply say it's down to the European Commission in Brussels.
"He has a personal responsibility to make sure the rules are complied with and that does mean taking action to prevent Liverpool breaking the rule."
But Mr Penning said: "Is it going to have such a dramatic effect? I don't honestly think so."
Liverpool City Council claims the change in cruise rules will boost Merseyside's economy by £100m a year and dock bosses say there is no legal requirement for them to pay back the portion of European Union money they received.
Mayor of Liverpool Joe Anderson said: "We have taken clear legal advice upon European Regional Development Fund, State Aid and the move to turnaround cruising."