Body parts warning by police after Southsea beach torso find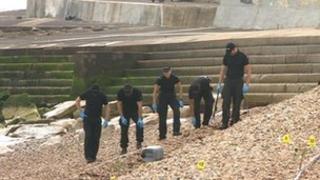 Police investigating the discovery of a headless torso on a Portsmouth beach believe other body parts may have been dumped nearby.
The body, without head, arms and legs, was found by a group of foreign students at Southsea shortly before 17:30 BST on Tuesday.
Post-mortem tests carried out on a male torso found on Southsea beach were unable to determine how he died.
Police said the torso discovered was that of a "post pubescent" man.
The Home Office post-mortem examination found he was subjected to a sustained and violent assault before death but was not able to determine an exact cause.
Body parts
Police have yet to identify the victim.
Det Ch Insp Dick Pearson said: "This is a murder inquiry.
"The fact that we are unable to use more conventional methods to identify the victim such as fingerprints or dental records is challenging.
"The inquiry is open to the possibility that the murder may have taken place away from the local area."
Other body parts or items linked to the murder may have been discarded in the area, police said.
Anyone who notices suspicious packages, possibly wrapped in black bin liners in the area should not open it, but contact police immediately.