'Rolling pin attack' killed mother-in-law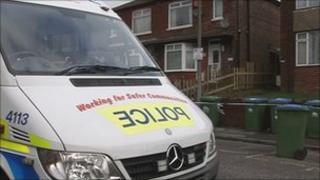 A woman battered her mother-in-law to death with a rolling pin, a court has been told.
Baljit Kaur Buttar, 56, was found dead in February 2011 in the Southampton house she had been living in with her son and his wife for six months.
Rajvinder Kaur, 37, denies murder, but Winchester Crown Court was told of an attack in a bathroom in which Ms Buttar was "beaten repeatedly".
A paramedic later found her lying naked and dead in the bath.
Prosecutor Bill Mousley QC said paramedic John Pike was called to the property on 25 February 2011 after receiving a report a woman had suffered a heart attack.
He witnessed shouting between Ms Kaur and her husband Iqbal Singh and found her washing her mother-in-law's body with a handheld shower in the bath.
Wooden rolling pin
The two men lifted Ms Buttar, also known as BB, into the kitchen while Ms Kaur watched, but attempts to resuscitate her were unsuccessful, the court heard.
The couple's two sons, aged nine and 18 months, were also at the flat.
Mr Mousley said: "[Ms Buttar] was subjected to a sustained attack in a bathroom in which she was beaten repeatedly with a wooden rolling pin to the head and neck and died at the scene as a result of these injuries.
"At one point when asked what had happened, the defendant said she [Ms Buttar] had a bath and was putting some oil on, she [Kaur] had heard a bang and gone into the bathroom.
"She thought BB had fallen over in the bath."
Ms Buttar had been staying with the family at the Broadlands Road house since August 2010.
She was due to return to India on 27 February, two days after her death.
The jury was also shown a video taken at the scene.
It showed the bathroom floor covered in blood and further blood around the kitchen where the rolling pin was discovered.
The trial continues.