Brading railway station recruits mannequin 'staff'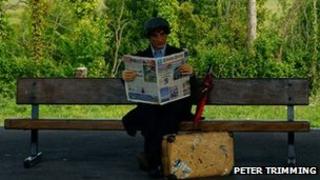 A railway station on the Isle of Wight is looking to add to a collection of mannequins used as a tourist attraction.
Brading station already features a couple of a lifelike characters, including one known as Albert.
The recently renovated Grade II-listed station is on the main Island Line between Ryde and Shanklin.
Town councillor Mary Collis said she wanted dummies for the signal box and to accompany Albert.
"People say the dummies make the station," she said.
The station originally opened in 1864 and also houses a visitors centre, but living railway staff do not work at the premises.
Ms Collis said: "Some people don't even realise they're dummies and they talk to them.
"I've had some funny replies. One lady said: 'My husband's a dummy, you're quite welcome to have him.'"
Ms Collis has asked shops and others to donate unwanted mannequins which will then be dressed and added to the station.