Beach torso: Police seek delivery bike information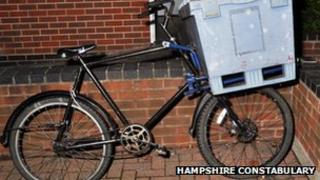 Detectives investigating the death of a man whose torso was found on a Hampshire beach have asked for information about a delivery bicycle.
The torso of David Guy, 30, was discovered by a group of students on Southsea beach, Portsmouth, on Tuesday.
Police have appealed for anyone who saw the bike, with a large box on its handlebars, to come forward.
A 46-year-old man from Southsea has been arrested on suspicion of Mr Guy's murder.
Kids' curtain
What appears to be the lower half of Mr Guy's body was found on rocks in front of Castle Field, Southsea, by police on Friday morning.
The torso was found wrapped inside a pink curtain within a black bin liner.
Police are also trying to establish the origin of the Wilkinson-own brand 'Wilko kids' curtain.
Det Ch Insp Dick Pearson said: "I'm particularly keen to hear from anyone who has thrown out a pair of these curtains recently or maybe knows of someone who has."
Mr Guy had no fixed address but was believed to have been staying in Southsea before his death.
A post-mortem examination conducted on Wednesday evening failed to determine a cause of death but police believe Mr Guy suffered a "sustained and violent assault".
Police said Richmond Road in Southsea would remain sealed off for some time as the area was of interest to detectives investigating the incident.