Beach torso: Police have extra time to question suspect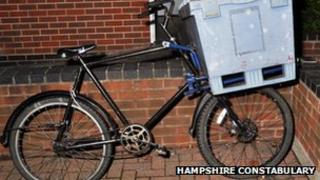 Detectives have been given more time to question a man over the discovery of a torso found on a Hampshire beach.
The remains of David Guy, 30, were discovered by a group of students on Southsea beach, Portsmouth, on Tuesday.
A 46-year-old man from Southsea was arrested on suspicion of Mr Guy's murder on Thursday.
Magistrates granted a further extension, allowing officers to continue questioning the suspect until 19:41 BST on Monday.
The torso was found wrapped in a pink curtain inside a bin liner.
Police are continuing to appeal for anyone who saw a delivery bicycle with a large box on the front being ridden in the Southsea area between 28 June and 3 July to get in touch.
They also want to hear from anyone who recently got rid of a set of bright pink Wilkinson-own brand curtains or knows someone who has.
Mr Guy had no fixed address but was believed to have been staying in Southsea before his death.
A post-mortem examination failed to determine a cause of death but police believe Mr Guy suffered a "sustained and violent assault".